Ford Focus
Speedometer Repairs
.
At Electrotech, we specialise in Ford Focus speedometer repairs, so if you are looking for any Ford Focus instrument cluster/speedometer repairs you are definitely in the right place. The cause of this issue is rather common., We have a lot of experience and the required equipment to fix these and we are able to offer a 24 month warranty.
Our prices are competitive and our repairs are guaranteed with a 24 month warranty.
All you need to do is follow the procedure below and send your clocks in for repair,
OR you can fill in the call back form, give us a ring, or send us an email. We will then get in touch and discuss the problems you are experiencing to narrow down what the root cause is. This will enable us to give you an accurate, no obligation quote.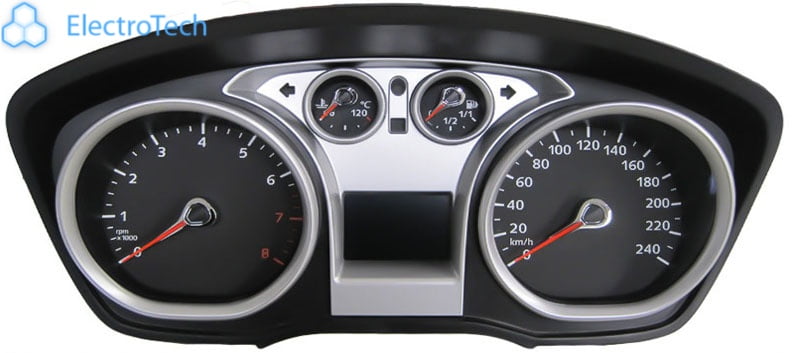 We regularly repair Ford Focus speedometers and odometers with the following issues:
Speedometer needle fluctuating
Ford Focus speedo intermittently drops to zero for no apparent reason
Slight loss of power when the speedo drops to zero
Radio volume dropping when speedometer needle malfunctions
Speedometer issues causing lights to dim
Ford Focus not starting, or cutting out, due to speedo problems
Odometer periodically freezing
Odometer showing ——-
Lights on the dashboard going out for no reason
Above are the most common issues with Ford Focus Speedometers but if you are experiencing another issue please get in touch we may be able to fix it.
We specialise in Ford Focus speedometer repairs and we have good links with Local Ford Dealerships.
No job is too big or too small for our team, so please get in touch, and finally, solve your speedometer problems
What Causes
These Issues
?
These problems are usually caused from faulty components or intermittently failing components
Can we
Repair these Faults
?
Yes in most cases we can repair these problems. Our prices start from £194.99. If you would like a repair carried out you can either:
Click the "Repair Form" button at the bottom of this page

and follow the instructions

Give us a call 07530 058 651
Drop us an E-Mail
We also offer a postal service if you are not in our area. We aim to carry out all repairs within 2 working days and all units are returned via courier or Royal Mail recorded delivery.
Please Click the Link to Check out all our happy customers reviews  Google Reviews
We offer a 24 Month Warranty on all of our repair services. All repairs are carried out to the highest standards, and all of our repair components are the best quality available and tested by ourselves fully.